Production Team
Val Taylor, Bruce Emeny, Andy Terry, Daniel Humphries, Derek Butcher, Gloria Streames, Caroline Roberts, John Roberts, Lester Pearse, Patience Ling, Viv Wheatley, Yvonne Cobbold, Steve Sadler, Geoff Taylor, Roger Licence, Kerry King and other volunteers not mentioned.
The Play
'The Secret Diary of Adrian Mole aged 13 ¾ years' is set in 1984 and has been adapted by Sue Townsend from her international best-selling book of the same name. This satirical comedy of adolescent manner follows the efforts of Adrian, a spotty teenager trying to make sense of the erratic behaviour of the adults around him. The disintegration of his parents' marriage, threats from the local bully, first love pains and spots coming out on New Yea's Day are just some of a series of minor tragedies in the delicate transition from boyhood to manhood.
Reviews
To follow shortly
Photo Shoot
Back row: Tovah Undrill, John Roberts, Liz Porter, Chris Sadd, Martin Rayner
Middle row: Gordon Prior, Viv Wheatley, Robin Morris-Denholm, Christine Phasey, Paul Richardson.
Front row: Pheobe Day, Bronwyn Morris-Denholm, Tom Blyth, Ryan Maslen, Adam Duarte-Dias, Matthew Barrott, Daniel Richardson, Bethany Jones.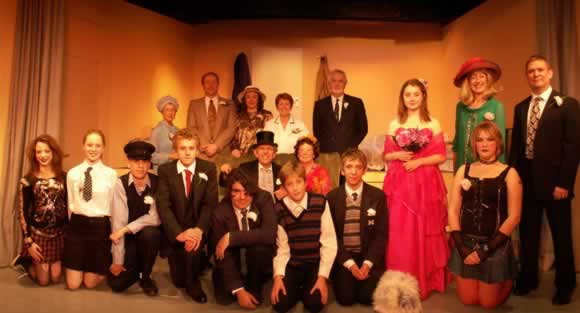 (click on an image below to view a larger photo - arrow keys navigate through the set)