By David Croft & Jeremy Lloyd
Performed with the kind permission of Samuel French
Director - Kerry King
Many of you may remember that "Are You Being Served" was a British sitcom broadcast for television from 1972 to 1985. It was set in the ladies' and gentlemen's clothing departments of Grace Brothers, a large, fictional London department store. The idea for the show came from the author's brief period in the early 1950s working at Simpsons of Piccadilly, a clothing store which traded for over 60 years until 1999.

If you do not laugh out loud at the silly one-lliners and antics; the innuendos and situations that the staff at Grace Brothers find themselves in, then you will probably, at the very least, be smiling at the absolute light heartedness of this production.

Directors not only have to rely on their cast to fufil a vision but hardworking set designers and builders, wardrobe mistress and helpers, the backstage crew, lighting and sound technicians, the prompt, bar manager and volunteers, box office management and front of house volunteers. A very big thank-you to them for making sure our productions go ahead.

A big thank-you to you, our audience for supporting the Manifest Theatre, we hope you had a fun evening.


Kerry King




Cast
| | |
| --- | --- |
| Mr Grainger | Alan Wheeler |
| Mr Mash | Gordon Prior |
| Mr Rumbold | Nigel Rowe |
| Mr Lucas | Adrian Bolton |
| Miss Brahms | Liz Porter |
| Captain Peacock | Alan Green |
| Mrs Slocombe | Gloria Streames |
| Mr Humphries | Paul Reed |
| Mr Grace | Chris Bush |
| Lady Customer | Elaine Green |
| Male Customer | Adam Duarte-Dias |
| Nurse | Sopdie Stanley |
| Don Bernardo | Adam Duarte-Dias |
| Cesar | Gordon Prior |
| Conchita | Sophie Stanley |
Production Team
Kerry King, Derek Butcher, Chris Bush, Bruce Emeny, Tom Cross, Andy Terry, Martin Rayner, Nigel Rowe, June Wheeler, Gloria Streames, Caroline Roberts, John Roberts, Lester Pearse, Yvonne Cobbold, Sheena Goddard, Kathy James, Jacquie Terry, Kate Sheffield, Alan Wheeler, Patience Ling, Viv Wheatley, Amanda & Nigel Rowe, Steve Sadler and other volunteers not mentioned.
Awards & Nominations
The Play
To the delight of its fans everywhere the smash hit television comedy has been adapted for the stage by its original creators. Double entendres are non-stop as the well-loved staff of Grace Brothers department store prepare first for a sale of German goods and then depart

en masse

for a staff holiday at a one-star hotel in Spain. Will the tropical heat, Spanish crumpet, giant woof 'n' poofs and randy revolutionaires prove too much for our happy band? Not a bit of it! With the aid of a nun's habit, a bowler hat and Mrs Slocombe's Union Jack knickers they survive their holiday with everything intact but their modesty.


Reviews
This must have been one of the hardest productions for the Manifest Theatre Group. Staging a play so famililiar to most of the audience, yet still raising laughs, was no mean feat.
Are You Being Served? by David Croft and Jeremy Lloyd was a popular sitcom for 13 years in the 1970s and 1980s, and turned several of that cast into household names.

So the 12 strong Manifest cast deserve top marks, in particular Paul Reed and Gloria Streames as Mr Humphries (John Inman) and Mrs Slocombe (Molly Sugden) respectively.

The two act play, with packed houses over six nights in Manningtree's Manifest Theatre, took the staff of the fictional department store from London to a Spanish resort, but instead of sunshine and sangria, the group finds itself with no rooms and then embroiled in a revolution. It was a typical British farce with innuendo, double entendres, bedroom mix-ups and plenty of rushing around, the latter no small feat on a relatively small stage. With at times all the cast, with props, on on stage at the same time, director Kerry King, plus stage manager Derek Butcher, should be praised for it all going smoothly.
Lesley Pallett


Photo Shoot
Paul, Adrian, Liz, Lynne, Alan, Nigel, Alan, Gloria, Gordon, Adam, Sophie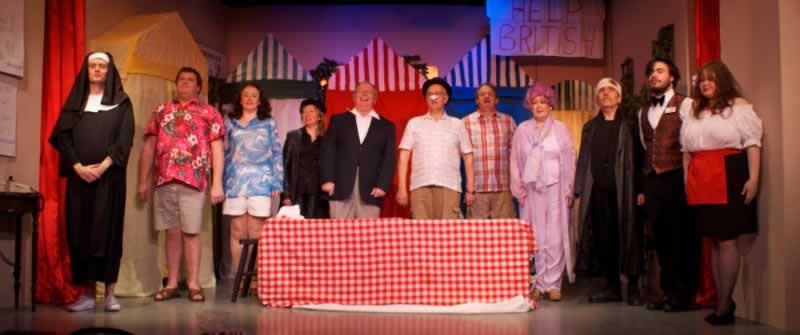 (click on an image below to view a larger photo - arrow keys navigate through the set)