Production Team
Caroline Roberts, Val Taylor, Derek Butcher, Jude Hussey, Bruce Emeny, Andy Terry, Daniel Humphries, Geoff Taylor, Mike Johansen, Gloria Streames, Rosamund Pettett, John Roberts, Lester Pearse, Patience Ling, Viv Wheatley, Yvonne Cobbold, Steve Sadler and other volunteers not mentioned.
Awards & Nominations
NETG Nomination 2008/9
Best Supporting Actor: Mike Johansen as Victor Valasco
Best Supporting Actress: Val Taylor as Mrs.Banks
Set Design/Construction

The Play
Barefoot in the Park was written by Neil Simon and inspired by the early days of his marriage at the time. It was the playwrights third effort and his first major hit, following the comedy "Come Blow Your Horn" and the less successful musical, "Little Me".

The first Broadway production opened on 23rd October 1963 at the Baltimore Theatre, where it ran for 1530 performances, making it Simon's longest running show. The cast included Robert Redford as Paul, Elizabeth Ashley as Corrie, Mildred Natwick as Mrs Banks and Kurt Kaszner as Velasco. As well as winning Best Director, Nomination went to Simon for Best Play and Ashley for Best Actress in a play.

Mildred Natwick reprised her role as Corrie's mother for the first UK production of the play at the Piccadilly Theatre in London in November 1965. The play won the Evening Standard Award for Best Play in 1967.

Simon later adapted his play for a 1969 feature film, starring Redford and Jane Fonda.
Reviews
The Manifest Theatre has staged many wonderful productions over the last three decades but this latest must surely rank among the very best.
Some shows take time to get going but this one was a hit from the start and had everyone chuckling from the very beginning.
Barefoot in the Park is based on Neil Simon's experiences of early married life - and few in the audience would have failed to recognise the stresses encountered as a young couple learn to adapt and get to know each other.

Emma Race, as the young wife, was on stage for practically the whole of the three act play. She was outstanding and on the first night just about word perfect. A relative newcomer to the group, making only her forth appearance at Manningtree's Manifest Theatre, she was joined by Paul Reed as the husband, who was making his debut. He too was excellent and will have learned by playing alongside two of the longer serving members of the group, Val Taylor and Mike Johansen, who both gave the sort of performances for which they have become renowned.
The remaining two parts were taken by Nigel Morton and Gordon Prior, who, although on stage for only a short period, ably helped create the illusion of the very high-rise apartment.

This was really a great evening's entertainment and full marks go to director and producer Caroline Roberts along with the backstage crew who made the scenery, including the broken skylight.
Lesley Pallett
Photo Shoot
Mike, Emma, Val, Paul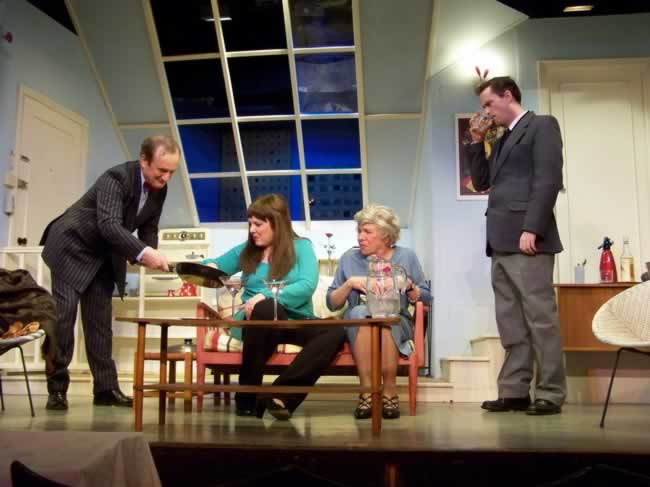 (click on an image below to view a larger photo - arrow keys navigate through the set)