The Bunburyists - performed November 2003
Or "The Importance of Not being Gilbert"
A musical comedy play by Colin Pearson
Director - Nigel Rowe
Cast
(in order of appearance)
Algernon Moncrieff
John Roberts
Lane (The Butler)
Nigel Morton
Ernest Worthing (Jack)
Glyn Hill
W. S. Gilbert
Nigel Lister
Lady Bracknell
Amanda Rowe
Gwendolen Fairfax
Caroline Newson
Miss Prism
Liz Porter
Cecily Carden
Jo Cobbold
Dr. Chasuble
Mike Johansen
Second Butler
Gordon Pryor
Chorus
Kathy James
Bryan Threadgall
The Play
A musical comedy adapted by Colin Person from Oscar Wilde's book "The importance of being earnest".
Reviews
Rising to Challenge

AFTER 25 years and nearly 80 productions, The Manifest Theatre Group continues to find, and rise to, new challenges.
Its latest offering, The Bunburyists or The Importance of Not Being Gilbert, breaks new ground and once again the talented cast, many of whom have been with the group since its formation in 1978, give a polished and professional performance.
During the relatively new musical comedy play by Colin Pearson, who used to live in the area, there were 23 songs, sung in the style of Gilbert and Sullivan operettas.

For the most part the players coped well, Amanda Rowe as the overbearing Lady Bracknell, have a particularly strong voice, but at one stage they almost succumbed to a fit of the giggles when the 'vicar' got left behind in the fast flowing lyrics.
The two-act play, directed by Nigel Rowe and with piano accompaniment by Patience Ling, started slowly but the tempo increased and the scenery, after the interval, was enhance with garden plants provided by Hearts Delight, the Lawford nursery centre, creating a delightful setting. Among the 12-strong cast, John Roberts gave a faultless performance, while in the background, Gordon Prior, as the doddery butler, kept the audience amused.
Lesley Pallett
Awards
Best Direction - Nigel Rowe
Best Newcomer - Joanne Cobbold
Technical Achievement - "The Bunburyists"
Best Costume - Manifest Theatre Group for "The Bunburyists"
Awards presented at "The Brantham Play Festival 2003"
Photo Shoot (all names from left to right)
(Back row) Mike, Amanda, Gordon, Bryan, Kathy, Nigel, Liz, Nigel
(Front row) Glyn, Caroline, Jo, John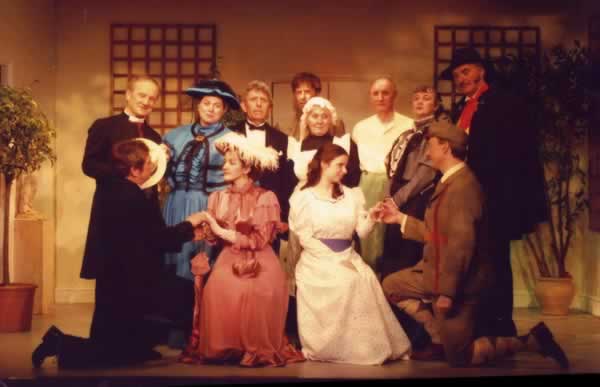 (click on an image below to view a larger photo - arrow keys navigate through the set)