Production Team
Val Taylor, Viv Wheatley, Judy Hussey, Jenny Rollings, Bill Kempster, Ian Tucker, Bruce Emeny, MAurice Barber, Trevor Amoss, Geoffrey Taylor, Tracy Amoss, Wendy Colbourne, Hilda Breckles, Kevin Brown, Geoffrey Austin, Derek Cobbold, Bill Chapman, Pamela Talbot-Ashby, Greg Garrod, PAuline Rowe, Marion Boyce.
The Musical
In roaring twenties Chicago, Roxie Hart, an ambitious chorus girl, murders her lover. She then convinces her gullible husband, Amos, that her lover was in fact a burglar. Amos agrees to take the rap until the police convince him that the burglar was in fact Roxie's lover. Thus, Roxie goes to jail and joins another famous stage performer and murderess, Velma Kelly. Both Roxie and Velma are headline hunters seeking to capitalize on pre-trial publicity for the sake of acquittal and stage careers. In the end their tricky lawyer, Billy Flynn, manages to get both Roxie and Velma free. However, another woman shoots up the courthouse and steels the limelight - effectively ending the careers of both Roxie and Velma.
Reviews
This enterprising and often adventurous society marks its imminent departure from the venue that has served it so well with an absolute humdinger of an American musical. It relates the story of a trial of the two-timing broad who has shot her lover and the wheeler-dealer razzmatazz that surrounds it.
Dennis Murfitt's vibrant presentation begins with a stunning opening number, All that Jazz, and rarely departs from this high standard as the sequence of what amounts to vaudeville acts peoples the rainbow stage with colourful solo, duo and production set pieces, that nearly all come off in complete triumph.
All the principles are on top form. Clare Colbourne's thoroughly twenties Velma Kelly has sass and class with a touching vulnerable quality that sets a striking contrast to Brenda Chapman's more obviously sexy, self-centred floozie. Their individual and combined playing and singing is straight out of the top draw, in numbers like Funny Honey, I can't do it alone and Nowadays. Ron Colbourne's beautifully stated Amos has total control of the sad clown character and his plaintive Mr Cellophane has the genuine pathos to have a transfixed audience surreptitiously wiping away its helpless tears. Val Taylor's butch, brassy blonde Mama Morton is as tough and hard as old boots and her rasping sandpaper voice is ideally suited to the cynical "When you're good to Mama", which takes in the whole unlovely but irresistible character.
The director himself manipulates the shifty-eyed, world weary lawyer, Billy Flynn, to his eye-on-the-main-chance triumphs in court. There is a trilling soprano "A little bit of good" of a sob-sister from the very fetching Jane Cousins as Mary Sunshine as well as an engaging thicko from David Turrell as Fred Casely. The quintet of man-bait in the cells is physically delicious in the skimpy convict outfits and each member is worth listening to as well, as a singing and character in terms of individual performance.

The American accents waver from time to time, and the early part of the court scene needs an injection of pace between the deliberate and very effective contrived pauses. But the costumes for the huge cast are splendidly conceived in texture and colour blend and marvellously complemented by imaginative and inventive lighting.
The complicated plot is dealt with as skilfully as is the musical score at the hands of Patience Ling, Greg Garrod and Pauline Rowe. Viv Wheatley's sardonic tongue-in-cheek introduction and commentary is pungently put across and the whole show is summed up in the knockout Razzle-Dazzle session that has style, panache and brilliant range.
Jimmy James
---
IN a bright razzle-dazzle production the Manifest Group has found a new star to add to its already talented line-up.
Clare Colbourne, making her debut for the group, gives a strong, confident and gutsy performance as Velma, one of several hard and bitter women prisoners trying to escape justice for murdering their husbands or lovers – all in self-defence of course.
Brenda Chapman, as her cell-mate Roxie, attacks her part well and the pair produce the kind of aggressive energy demanded by this musical.
Funniest
Scenes are sharply executed and the show moves smoothly to its climax with the help of well rehearsed music and lighting effects.
The stagecraft of Dennis Murfitt, as a sleazy lawyer manipulating public sympathy, is flawless and the ventriloquist song, in which he uses Roxie as a dummy, must be one of the funniest seen on a local stage. Ron Colbourne, as Roxies's downtrodden and naïve husband, shows great timing and command of his character and Val Taylor is an excellent "big mama" to the prison women.
The strength of the Manifest Group over the years has been its ability to attract and keep good supporting actors and actresses. This is well demonstrated in "Chicago" by people like David Turrell as Roxie's lover and Jane Cousins as Mary Sunshine, gullible gossip columnist for the Chicago Evening Star.
Ian Tucker's set is another inner and the success of this swinging production fully justifies the ambitious choice, well up to the standards of "Fiddler on the Roof", "Oliver" and "Cabaret".
D.G.
---
All the world's a stage
ALL the world's a stage, the saying goes, and Chicago, the latest production by Manningtree's Manifest Theatre Company, proves just that. The story of Roxie Hart, accused of murdering her lover, her trial and rise to stardom, is told through a series of vaudeville sketches. Written by Fred Ebb and Bob Fosse, the team responsible for Cabaret, Chicago is rich in irony as well as song and dance. For as much as Roxie want to be let of the hook, she also wants to be a star, and with the help of an unscrupulous lawyer, Billy Flynn, she gets both.
Staged at a cost of almost £900, Manifest's production put every penny on view, with an ingenious set, and a seemingly endless parade of glittering costumes.
The American accents occasionally cause problems, but generally the cast cope excellently with both acting, singing and dancing.
Best singing of the evening comes from Clare Colbourne vamping it up as Velma Kelly.
Acting honours go to Brenda Chapman as Roxie, who has the right shrill southern accent, and to Val Taylor, who is underused as Matron Mama Morton, warden of the jail where Roxie is imprisoned. She come on like a cross between Mrs Thatcher and Shirley Bassey and steals every scene she is in. But the finest performance of the evening is by Ron Colbourne, as Roxie's meek husband Amos. His song, Mister cellophane – because everybody looks straight through him – has just the right mixture of comedy and pathos and is the highlight of a very good evening's entertainment.
MH
Photo Shoot
(can you help to identify these actors)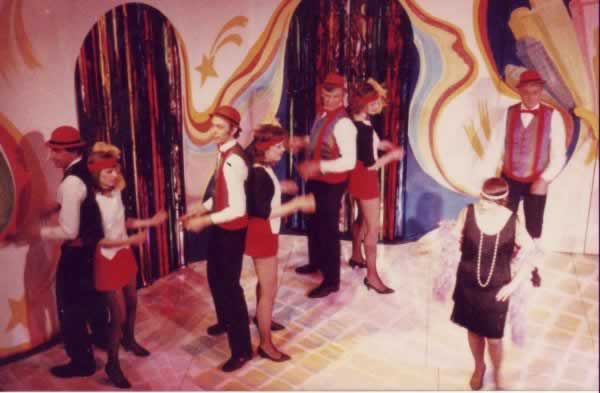 (Clare, Brenda)