Production Team
Caroline Roberts, Jude Hussey, Derek Butcher, Bruce Emeny, Andy Terry, Gloria Streames, John Roberts, Val Taylor, Tom Cross, June Wheeler, Phil Chatfield, Ali Mercer, Patience Ling, Viv Wheatley, Yvonne Cobbold, Steve Sadler and other volunteers not mentioned.
Awards & Nominations
The Play
A very funny comedy by the author of Curtain Up! (Respecting Your Piers) and the West End hit Glorious! Three sets of characters, three crucial moments. Jonathan and Wendy are on a blind date and hoping to get it right this time even though they've never got it right before; Shelley and Bobby have decided to holiday in Spain to finalize their divorce whilst drowning in cocktails; Angela is marrying for the third time to the dismay of her brother Toby and amidst a barrage of bad omens and a dress resembling a parachute.

A gloriously funny examination of the chaotic world of love, relationships and why the grass is never greener. Duets is an hilarious tribute to the strength and madness of the human heart.
Reviews
This was a triple treat for Manningtree theatregoers.
Duets, a comedy by Peter Quilter and staged by the Manifest Theatre Company over five nights, was in effect three one-act plays linked by very differing kinds of love in relationships.

In the first, Blind Date, a couple who have had little success in the past, meet after answering advertisements in a magazine. Stumbling through the agreed 15 minutes, they eventually decide to go on a proper date.

A divorcing couple feature in The Holiday. Rather unusually perhaps, they have decided to go ahead with the already-booked holiday while they decide who gets what.

Bride-to-Be, the third and funniest, centred on a woman about to marry for the third time and, to the despair of her brother deems undecided about going ahead following a series of bad omens.

The cast of just five, again, as we now expect of the Manifest, gave polished performances. Alan Wheeler should be mentioned for playing two roles, while Amanda and Nigel Rowe deserve the appreciation of the audience for their usual high acting in between visits to a family member in hospital. Unusually there were some empty seats in the auditorium but those who chose not to support this production for whatever reason missed another very enjoyable evening's entertainment of gentle humour.
Lesley Pallett
Photo Shoot
Alan, Nigel
Roz, Liz, Amanda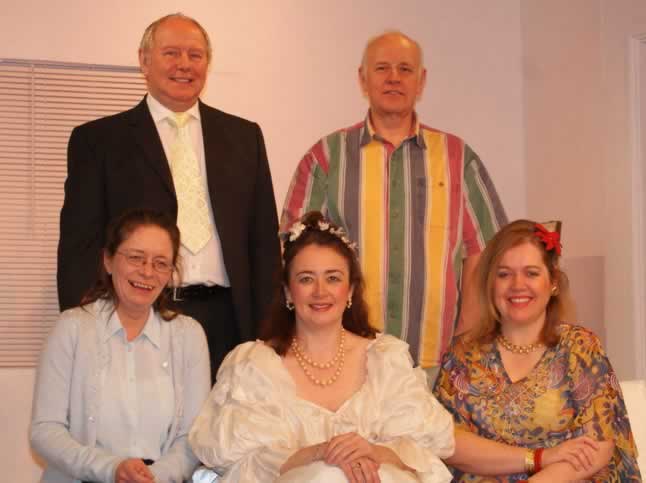 (click on an image below to view a larger photo - arrow keys navigate through the set)