Fish Out Of Water - Performed June 2004
A Comedy by Derek Benfield
Director - Mel Evans
Cast
(in order of appearance)
| | |
| --- | --- |
| Audrey Hubback | Viv Wheatley |
| Marisa | Jo Cobbold |
| Brigadier Hubback | Lester Pearse |
| Agatha Hepworth | Amanda Rowe |
| Fiona Francis | Liz Porter |
| Julian Whittle | Duncan Prior |
| Mario Marcello | Nigel Rowe |
Production Team
Gordon Prior, Mel Evans, Bruce Emeny, Maurice Barber, Derek Butcher, Caroline Kobielusz, Val Taylor, Ray Streames, Glyn Hill, Yvonne Cobbold.
The Play
The play is set during the 1980's in the hotel ante room at a well known Italian holiday resort.
Reviews
Its everyone's worst holiday nightmare come true.
Strikes, long delays at the airport, no taxis and double booked rooms all feature in this latest production by the Manifest Theatre Group.
Fish Out of Water, a comedy by Derek Benfield, is directed by Mel Evans. The two-act play comprises four scenes set in the hotel of a well known Italian resort. It brings together an ill-assortment of guests, plus under-worked staff.
Amanda Rowe as the loud-mouthed and overbearing holiday maker you dread meeting, wanting to get everyone organised, was outstanding and must surely be in danger of losing her voice by the end of the week.
She was well-supported by the other six members of the cast; Liz Porter as the timid sister, Lester Pearse, a retired army officer under the thumb of his wife, played by Viv Wheatley; Nigel Rowe, the amorous hotel manager; Duncan Prior as the hotel courier trying to sort out all the problems; and Jo Cobbold, the hotel receptionist cleverly fighting of the attentions of the brigadier and a much younger rival.
Presented as always by the Manifest in a very professional manner, the only criticism would be that the play was slow to get started and then, just as it got really interesting. ended rather abruptly.
Photo Shoot
(The Men) Duncan, Nigel, Lester
(The Ladies) Viv, Amanda, Liz, Jo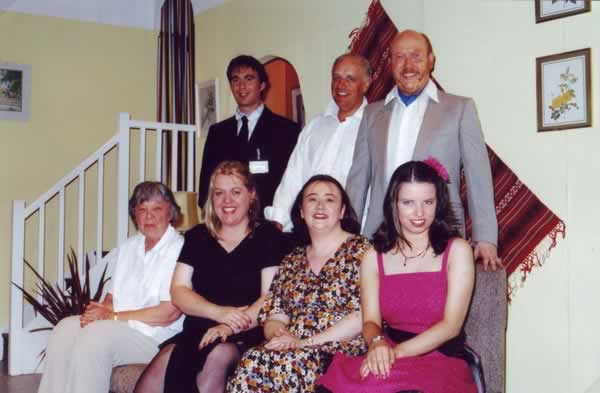 (click on an image below to view a larger photo - arrow keys navigate through the set)