Books and Lyrics: Alan Jay Lerner
Music by Frederick Loewe
By Arrangement with MusicScope and Stage Musicals New York Ltd.
Director - Kerry King
Musical Director - Patience Ling
Cast
Eliza Doolittle
Jo Simmons
Colonel Pickering
Martin Rayner
Henry Higgins
Nigel Lister
Mrs Higgins
Viv Wheatley
Mrs Eynsford-Hill
Stella Culley
Freddy Eynsford-Hill
Adrian Bolton
Alfred P. Doolittle
Mike Johansen
Harry
Derek Butcher
Jamie
Royston Simons
Busker/Butler/Cockney
Ray Chinn
Mrs Pearce
Muriel Simons
Mrs Hopkins
Kathy James
Maids
Lynette Rowsell
Sam Daines
Emma Bush
Jo Cobbold
Prof. Zoltan Karpathy/Policeman
Graham Boulton
Lord Boxington/Cockney/Footman
Bob Wheatley
Lady Boxington/Costermonger
Jane Cousins
Suffragette/Cockney
Kate Daines
Mrs Higgins' Maid/Cockney
Val Munns
Cockney
Yvonne Cobbold
Selsey Man/Cockney
Terry Cousins
Cockney/Bystander
Thelma Rayment
Cockney/Flowergirl
Janet Bush
Cockney/Set Dresser
Liz Poter
Production Team
Jenine Collier, Chris Bush, Steve Sadler, Darryl Streatfield, Bruce Emeny, Maurice Barber, Peggy Barber, Nigel Lister, Peter Bushell, Kerry King, Terry Cousins, Bill Chapman, Roger Licence, Martin Rayner, Graham Boulton, Douglas Page, Sarah King, Jessica Boulton, Allison Trenerry, Kathy James, Thelma Rayment, Lyn Weatherill, Viv Wheatley, Patience Ling, Jo simmons, Rene Hacon, Marion Heywood.
Musicians
Patience Ling, Paul Scott, Doug Newton
The Musical
Your theatre has much pleasure in presenting one of the highly esteemed musicals of all time. It was the brainchild of Hungarian film producer Gabriel Pascal, who approached Alan Jay Lerner to write the adaptation of George Bernard Shaw's play "Pygmalion" (after first being turned down by Noel Coward, Cole Porter and Rogers & Hammerstein).

Pascal died in 1954 about the same time Lerner and composer Frederick Loewe first became convinced the aadaptationcould be done. "My Fair Lady" opened in New York's Mark Hellinger Theater on March 15, 1956 to rave reviews and ran for over 4 years.

The musical transferred to London's Drury Lane Theatre on April 30 1958. The principles, Rex Harrison, Julie Andrews and Stanley Holloway, came with the production. With more than a "Little bit of luck" it ran and ran. The film version of the show was released by WWarnerin 1964.
Reviews
The lady was just not fair, she was excellent.
Adapted from George Bernard Shaw's play Pygmalion, My Fair Lady has been an outstanding hit wherever it has been performed. Now Manningtree's Manifest Theatre has been added to the list of ssuccesses
The story has a little of everything with the added ingredient of all the wonderful songs, providing some really colourful scenes.
It must be daunting to tackle butles which have been made famous bt really big stars such as Rex Harrison, Julie Andrews and Stanley Holloway, but as ever, the Manifest Theatre Group members did not let anyone down.
Nigel Lister as Professor Higgins was on stage for most of the 2¾ hours of the production and gave a faultless performance. Jo Simons, after a slow start, grew into the part of Eliza Doolittle to steal everyone's hearts, while Mike Johansen as her cheeky cockney father got a cheer whenever he appeared.
The numerous scene changes were carried out with minimum of fuss with the Manifest adding its own special touch, making these part of the overall play.
The only problem was that because of the lack of space, doors had to be left open to take props in and out. Blankets had been thoughtfully provided for those sitting nearby but many more suffered cold feet!
Lack of space was no problem in the ballroom scene, the creation of the illusion of grandeur being a credit to the ingenuity of director Kerry King. Musical Director Patience Ling should also be mentioned for getting the best out of the players.
Photo Shoot
Jo Simmons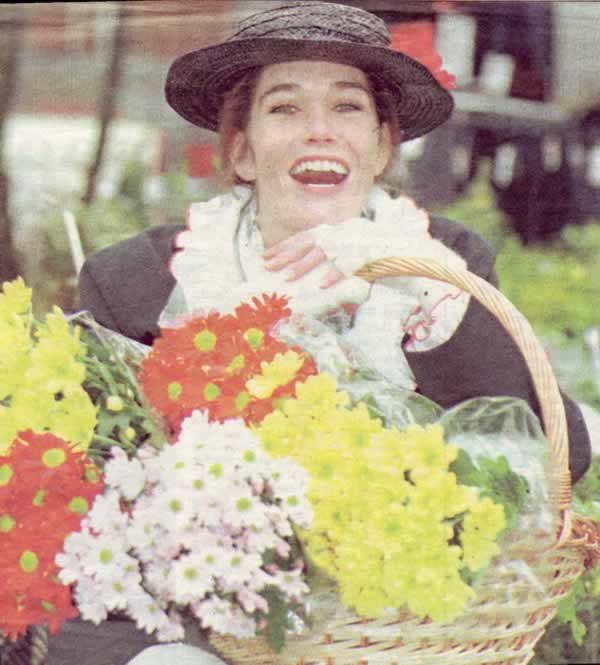 If you have any other photos from this production, then please let us know.