Production Team
Val Taylor, Bruce Emeny, Andy Terry, Daniel Humphries, Jude Hussey, Derek Butcher, Gloria Streames, Caroline Roberts, John Roberts, Chris Sadd, Lester Pearse, Patience Ling, Viv Wheatley, Yvonne Cobbold, Steve Sadler, Geoff Taylor, Roger Licence, Kerry King and other volunteers not mentioned.
Awards & Nominations
NETG Nomination 2008/9
Set Design/Construction
Best Supporting Actor: John Roberts as Stewart
Best Actress: Rosamund Pettett as Barbara Jackson
The Doris Griffiths Memorial Cup for Best Production

The Play
Pack of lies was written by Hugh Whitemore, Based on true events as told to him by the journalist Gay Search, who is the real life daughter of one of the families involved in the Russian spy scandal which occurred in Ruislip, Middlesex during the winter of 1960/61
It was first presented as a television drama with the title Act of Betrayal in 1971, but subsequently, unable to get this story of deceit and intrigue out of his mind, he adapted it for the theatre.
It was first performed in Brighton in 1983 but quickly transferred to the West End where it enjoyed a long run at the Lyric theatre and won for Judi Dench the Laurence Olivier award for best Actress.
Reviews
A powerful drama brought out the very best from the cast in this latest production at Manningtree's Manifest Theatre.
With several of the Manifest Group's leading lights in the line up - some of the most talented members who have been part of the company for many years - the audiences have been treated to some exceptional performances.
Pack of Lies by Hugh Whitemore is based on true events revolving around a Russian spy scandal during the winter of 1960-61, at the height of the Cold War.
At the Manifest it was directed and produced by Val Taylor, who must surely take a lot of credit for ensuring the right people were playing the right characters.
Rosamund Pettett, making a welcome return to the Manifest after several years' absence, took the role of the ordinary little housewife interested only in her family and home, whose life is turned upside down when her house is taken over by British agents spying on the spies.
Rosamund put so much of herself into the part she looked exhausted at the end of the two-hour play, so by the end of the week should be due a well earned holiday.
John Roberts was outstanding as the suave civil servant, as was Alison Baker as the bubbly outgoing Helen Kroger, and they were well supported by Howard Gilbert, Bethany Jones, Lester Pearse, Liz Porter and Alice Rowe.
Lesley Pallett
Photo Shoot
Lester, Alison, John, Rosamund, Howard, Bethany, Liz, Alice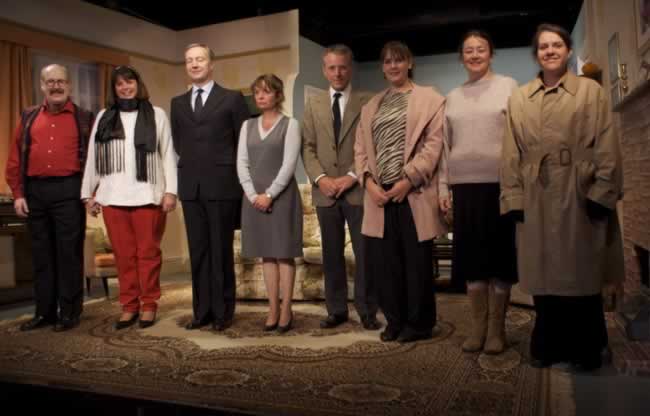 (click on an image below to view a larger photo - arrow keys navigate through the set)