Production Team
Jude Hussey, Jenny Rollings, Viv Wheatley, Bruce Emeny, Maurice Barber, Michelle Emeny, Dennis Murfitt, Bill Chapman, Alan Laurie, Greg Garrad, Val Taylor, Chris Wheeler, Jenny Glayzer, Julia Byford-Smith, Gill Baxter, Patience Ling, Viv Wheatley, and other volunteers not mentioned.
The Play
Maria Marten was born in Suffolk in 1801. There she met William Corder by whom she had a child who died in infancy. In 1827, Corder murdered Maria and buried her body in the Red Barn. Because of his wife's recurring dream, Thomas Marten searched the barn and discovered the body of his daughter. Corder was convicted of the crime and in 1828 executed at Bury Gaol. The fact that the production gets unsullied, hearty fun from these macabre ingredients is proof of its sureness of its energy that pushes aside any attempt to think seriously about the horrors.
Reviews
Using a revised Brian J Burton script, the indefatigable Dennis Murfitt has come up with a barnstormer in another re-telling of the notorious Polstead Red Barn crime of 1827. The production opens and closes with a band of travelling player having enormous fun, yet managing to preserve its integrity in the face of abuse and badinage from a delighted audience. An ingenious carry-on set is cleverly lit and the accompanying music is played with a feeling for atmosphere to underline both the tongue-in-cheek flavour and some oddly moving moments. The stage management too is swift and disciplined in its tasks and the whole thing catches the elusive flavour of melodrama with compelling accuracy. Adrian Bolton's dastardly William Corder looks like an English version of the young Omar Sharif. Teeth bared in a fiendish grin of dissembling menace, he gives the "vile seducer" real power and presence, in a tour-de-force that marks a new highwater mark in his career. Lesley Mercer's winsome Maria builds her betrayed and virtuous maiden into outraged defiance and ultimate touching forgiveness, in a performance that also had the benefit of a sweet singing voice Chris Mason often steals the show completely in the gift part of Tim Bobbin, with a hilarious local accent. Viv Taylor is full of doom-laden prophecy and vibrant hate in her vengeful Nell Hatfield and Jane Cousin' Mrs Marten used her instinct for the Suffolk vernacular to bring off the duet with her husband in a beautifully controlled send-up
Jimmy James

The latest offering from the Manningtree Group had everything, taking the audience through the full range of emotions. Based on the true story of the murder of a Suffolk woman more than 170 years ago, the two-act play by Brian J. Burton unfolded over 14 scenes and was presented in the form of a Victorian melodrama. The 14-strong cast was headed by Adrian Bolton, who gave an outstanding performance as the evil murderer William Corder. Invited at the beginning to join in, the audience dutifully hissed whenever the "baddie" appeared on stage and cheered when he got his just desserts, but at the end almost wept for him in the final dramatic soliloquy from the condemned cell. A close second for the star label was Chris Mason as the village idiot, who quickly established himself as a favourite with the audience. There were also fine performances from Val Taylor as the scheming gypsy Nell Hatfield and Lesley Mercer as the "fallen" Maria Marten. They were well supported by Maria's parents, Dennis Murfitt, once again produced and directed, and Jane Cousins and Maria's sister played by Allison Trenerry. Everyone has long stopped thinking of this group as amateur, so professional and polished are the performances and so meticulous the attention to detail. There is no doubt the group, never afraid to try something different, scored another hit.
Lesley Pallett
Photo Shoot
If you have any photos from this production, then please let us know.

Lesley, ??, Val?, ??, ??, Adrian, ??, ??, Alison, ??, ??, ??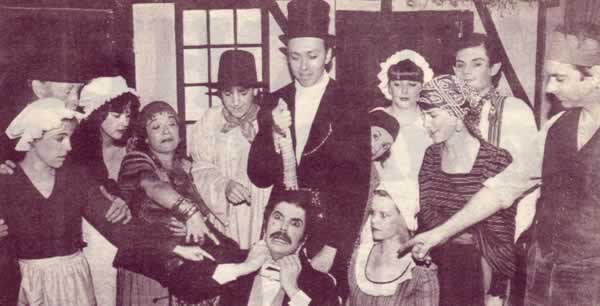 Lesley, Adrian