By Robert Harling
Performed with the kind permission of Samuel French Ltd
Director - Caroline Roberts
Directing my first main production for the Manifest has been a great experience and it has been a pleasure to work with such a talented and supportive cast and crew.

Usually up on the stage myself, the only drawback I have found to directing such a brilliant play is that you can't be in it! I have been blessed however, with finding six actresses who, each in their own way, have brought these wonderful characters to life and I would like to thank them for putting their faith in me, a novice director. As always, any production is a team effort and I hope you'll agree that this "team" has worked very hard to bring you an evening of laughter, emotion and entertainment.

We've certainly had a lot of fun and laughter putting the play together and we hope that you, the audience we've been doing it all for, enjoy it as much as we have. So am I pleased with my first production? Suffice to say I'm tickled pink!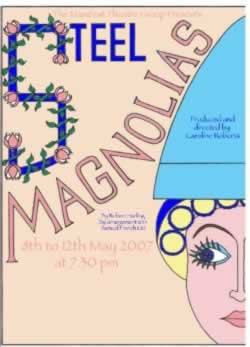 Cast
(in order of appearance)
| | |
| --- | --- |
| Truvy Jones | Helen Bridge |
| Annelle Dupey - De Soto | Alison Baker |
| Clairee Belcher | Kerry King |
| Shelby Eatenton - Latcherie | Emma Race |
| M'Lynn Eatenton | Amanda Rowe |
| Ouiser Boudreaux | Val Taylor |
| Voice of DJ | Mike Johansen |
Production Team
Caroline Roberts, Val Taylor, Bruce Emeny, Andy Terry, Daniel Humphreys, John Roberts, Roger Licence, Peter Scott, Derek Butcher, Patience LIng, Gloria Streames, Kerry King, Lester Pearse, Yvonne Cobbold, Viv Wheatley, Steve Sadler, and other volunteers not mentioned.
Awards & Nominations
2007 Nominations by the North East Essex Theatre Guild;
Set Design/Construction
Best Supporting Actress: Val Taylor as Ouisa
Best Actress: Emma Race as Shelby
We are pleased to announce that the Manifest Theatre won Best Set Design & Construction for this production at the North East Essex Theatre Guild awards.
The Play
The action is set in Truvy's beauty salon in Chinquapin, Louisiana, where all the ladies who are "anybody" come to have their hair done. Helped by her eager new assistant, Annelle (who is not sure whether or not she is still married), the outspoken, wise-cracking Truvy dispenses shampoos and free advice to the town's rich curmudgeon, Ouiser, ("I'm not crazy, I've just been in a bad mood for forty years"); an eccentric millionaire, Miss Clairee, who has a raging sweet tooth; and the local social leader, M'Lynn, whose daughter, Shelby (the prettiest girl in town), is about to marry a "good ole boy." Filled with hilarious repartee and not a few acerbic but humorously revealing verbal collisions, the play moves toward tragedy when, in the second act, the spunky Shelby (who is a diabetic) risks pregnancy and forfeits her life. The sudden realization of their mortality affects the others, but also draws on the underlying strength—and love—which give the play, and its characters, the special quality to make them truly touching, funny and marvelously amiable company in good times and bad.
Reviews
In sporting parlance, this was a play of two halves.
During the first act it was had to see where the plot, if any, was going but the second proved far more interesting as all become clear. Steel Magnolias, was written by Robert Harling and based on true events in his own life. Acclaimed in both this country and the USA, it has been successfully turned into a Hollywood film.
Set in a beauty shop in Louisiana, it centred on a group of six friends. At times funny, it also became very sad towards the end, putting the audience on something of an emotional rollercoaster.

As ever, the amateur thespians gave another professional performance, and Caroline Roberts is to be congratulated on directing her first main production. The six-woman cast was outstanding. All on stage most of the time, they were word perfect and their accents never faltered.
Helen Bridge and Emma Race, appearing in a Manifest production for the first time, gave performances which have always marked out members of this talented group. Alison Baker, Kerry King and Amanda Rowe were again excellent, while Val Taylor, as ever, stole the show whenever she was on stage.
Lesley Pallett
Photo Shoot
Emma, Amanda, Kerry, Helen, Alison, Val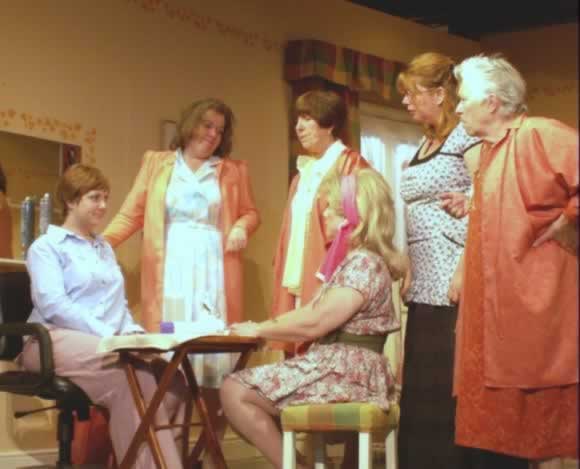 (click on an image below to view a larger photo - arrow keys navigate through the set)