Based on Lysistrata by Aristophanes
By kind permission of Warner Chappell Ltd
Produced and Directed by Mike Johansen
Musical Director - Patience Ling
Cast
The Women
Alice Tibbs
Carolyn Carey
Sister Priscilla
Mary Powell
Jane Clanton
Kellie Mattin
Madam Lola
Kathy James
Coriander
Cheryll Burton
Patchouli
Sue Hedges
Jasmine
Sue Halsey
Mrs Clayton
Muriel Dunne
Mrs McLaird
Kay Friars
Myrtle McLaird
Liz Porter
Mrs West
Donna Kimber
Doves
Emma Bush
Laura Brown
Jo Cobbold
Townsfolk
Janet Bush
Lillian Knights
The Men
| | |
| --- | --- |
| Bill Tibbs | Adrian Bolton |
| Judge West | Nigel Lister |
| Wyatt Earp | Gordon Prior |
| Virgill Earp | Chris Bush |
| Jamie Earp | Mike Johansen |
| Robert McLaird | Daniel Tuck |
| Mr Clanton | Mel Evans |
| Mr McLaird | Bryan Threadgall |
| Clint McLaird | Glyn Hill |
Production Team
Mike Johansen, Patience Ling, Mel Evans, Ray Streames, Maurice Barber, James Prior, Jenny Rollings, Lester Pearse, Caroline Kobielusz, Jane Cousins, Yvonne Cobbold, Lillian Knights, Kathy James, Gloria Streames, Bruce Emeny, Peggy Barber.
The Musical
Wild Wild Women is a tuneful foot-stampin', thigh slappin', outrageously funny musical romp that takes a light hearted look at the traditional Western. Set in Aggroville, where the Clantons and the McLairds are always killing each other, and where hangin' Judge West and the Earps try and keep control.
Things come to a head when the lovely singing nun, Sister Priscilla, is killed by a stray bullet. Alice Tibbs, of the Peaceable Haven Saloon, convinces all the women folk to take part in a love strike to bring the men to their senses. There is much twitching of the Doves at the Red Candle Saloon and moaning amongst the women, as they sing and dance themselves out of the dilemma.
Reviews
There's a whole lotta rootin', tootin' and shootin' in Manningtree.
Wild, Wild Women, the latest production by the Manifest Theatre Group, is a tuneful and colourful musical romp which takes a light heated look at the traditional Western.
Set in the old wild west of the 1880's there were all the familiar characters - the sheriff, hanging judge, feudin' families and can can dancers from the town's house of ill repute.
Although it was almost the interval before the play really got going, once it did, it proved to be another notch in the gun-belt of this ever popular group, which has been entertaining audiences for almost a quarter of a century.
The story tells what happens when the womenfolk embark on a love strike to make their men stop fighting and with more than 20 songs to learn, the whole cast worked extremely hard.
Picking out some of the stars - there were outstanding performances by Kathy James as Madam Lola, Donna Kimber as the judge's wife, Mary Powell as Sister Priscilla, whose sudden death sparks off all the trouble, and Liz Porter as the rather scatty newly-wed Myrtle McLaird, while Kellie Martin proved to have a delightful singing voice.
With limited space in the one-time school building, it is always fascinating to see the ingenuity and inventiveness used to make scene changes with the minimum of fuss. This was particularly apparent as the scenes moved from saloon bar to brothel, to dance hall and into the street.
Lesley Pallett
Photo Shoot
(back row) Mike, Chris, Gordon
(middle row) ?? please let me know, Jo
(front row) ??, Glyn, Adrian, Mel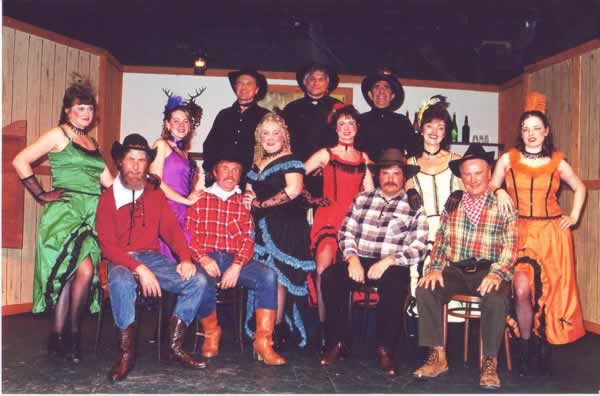 (click on an image below to view a larger photo - arrow keys navigate through the set)