Production Team
Val Taylor, Jude Hussey, Patience Ling, Doug Newton, Chris Sadd, Bruce Emeny, Andy Terry, Derek Butcher, Gloria Streames, Nigel Rowe, Kerry King, Gordon Prior, Caroline Roberts, John Roberts, Viv Wheatley, Yvonne Cobbold, Ali Mercer, Jacquie Terry, Sheena Godard, Mandy Rose, anne Doble, Kathy James, Kirsten Kalaher, Sue Hatch, Steve Sadler and other volunteers not mentioned.
Awards & Nominations
The Play
Tragedy tomorrow, comedy tonight! Broadway's greatest farce is light, fast-paced, witty, irreverent and one of the funniest musicals ever written - the perfect escape from life's troubles. A Funny Thing Happened On The Way To The Forum takes comedy back to its roots, combining situations from time-tested, 2000 year old comedies of Roman playwright Plautus with the infectious energy of classic vaudeville. The result is a non-stop laugh-fest in which a crafty slave (Pseudolus) struggles to win the hand of a beautiful but slow-witted courtesan (Philia) for his young master (Hero), in exchange for freedom. Delightfully unsavoury characters, a befuddled father with a shrewish wife, neighbours, strangers and the Roman army are all drawn into the confusion as this side-splitting comedy unwinds.
Reviews
An outstanding performance from Adrian Bolton, awesome even, considering this is amateur theatre, was the focus of this latest production from the Manifest Theatre Group.
A Funny Thing Happened on the Way to the Forum, from the book by Bert Shevelove and Larry Gelbert, took the full houses over six nights at the Manningtree theatre back to ancient Rome. The, at times, rather bawdy farce involving slaves and their masters, included much rushing around, no mean feat on the Oxford Road building's small stage, with the usual mix-up of mistaken identity, but no doubt the smooth running was all down to Val Taylor, who said this was to be her finale as director and producer.

Andrian Bolton has been a member of the group since its formation more than 30 years ago and has played many leading roles, but this must surely be one of his best. On stage for the most of the two-hour play, he took the part of Pseudolus, a slave hoping to gain his freedom by helping his young master get the girl of his dreams, a role made famous by the late, great comic actor Fankie Howerd. As well as acting and making sure the audience was keeping up with the plot, he also had several song to sing.

The play included 32 numbers, with music and lyrics by Stephen Sondhelm. Adam Duarte-Dias, one of the groups' younger members, in the part of another slave, deserves a special mention, while the three playing guards, eunuchs, soldiers and slaves, in rapid succession, are to be congratulated for the quickfire changes of costume.

In fact, the cast of 21 all gave assured performances and you know it's going well when those on stage seem to be enjoying themselves as well.
Lesley Pallett
Photo Shoot
Adrian, June, Gordon, John, Amanda, Paul, Anna, Robert, Ali, Nigel, Alan, Ryan, Kirsten, Lester, Adam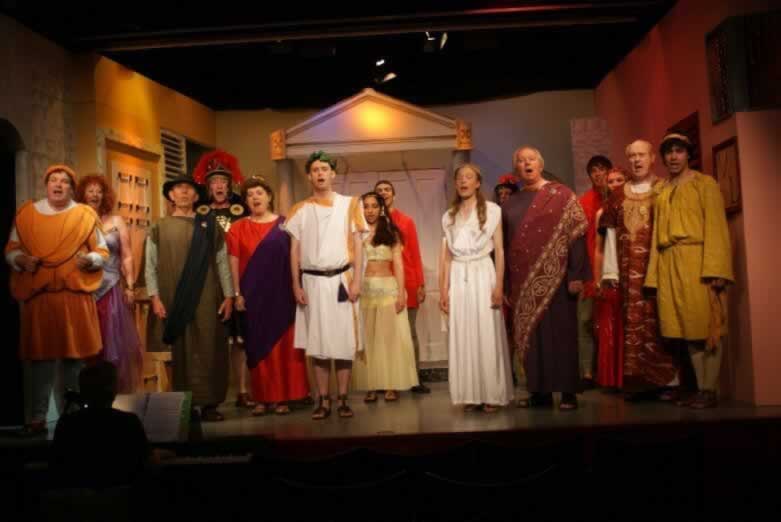 (click on an image below to view a larger photo - arrow keys navigate through the set)