Production Team
Kerry King, Bethany Jones, Bruce Emeny, Andy Terry, Daniel Humphries, Letty Green, June Wheeler, John Roberts, Patience Ling, Viv Wheatley, Yvonne Cobbold, Steve Sadler and other volunteers not mentioned.
Awards & Nominations
NETG Nomination
The Cliff Hudson Award for Comedy: Alan Wheeler as Rene
The Play
Based on the popular British television series, this uproarious comedy relates the adventures of a hapless cafe owner in occupied France. He and his wife have stashed a priceless portrait stolen by the Nazis in a sausage in their cellar, where two British airmen are also hiding until the Resistance can repatriate them. Communications with London using the wireless that is disguised as a cockatoo add to the many embarrassments this intrepid proprietor endures in the company of his patrons. News that the Fuhrer is scheduled to visit the town inspires tricksters disguised as Hitler to frequent the cafe. Meanwhile Rene summons all the wit he can muster to save his cafe and his life.
Reviews
We've all seen it before - probably numerous times - and we've heard the jokes. But they're still funny and although we know exactly what is going to happen, it's still hilarious. However, even the best script is no good without exceptional actors, and there's plenty of those among the Manifest Group.

Several newcomers to the Manningtree based company make their debuts in this latest production, being staged over five nights to sell-out audiences at the Oxford Road theatre - but there wasn't a weak link among them. The whole cast was a credit to David Croft's and Jeremy Lloyd's creation, which first hit our television screens some 27 years ago.

Ensuring they kept to the correct accent must have made learning the lines harder for everyone, in particular Paul Reed as officer Crabtree, the Englishman disguised as a French policemen. But top marks must go the Alan Wheeler as cafe owner Rene Artois. On stage for most of the performance, he was absolutely amazing. Lester Pearse as Herr Otto Flick also deserves a mention - as does Rosamund Pettett as Michelle of the Resistance, and Susanne Harknett as Helga, while Gloria Streames, after a tentative start, soon settled into the role of Rene's put-upon wife Edith.

Altogether, this was a remarkable performance, which had everyone laughing from start to finish.
Lesley Pallett
Photo Shoot
(standing) Paul, Mike, Paul, Liz, Gavin, Rosamund, Adam, Sue, Frank, Paul, Lester, Susanne.
(sitting) Luke, Gloria, Alan, Bethany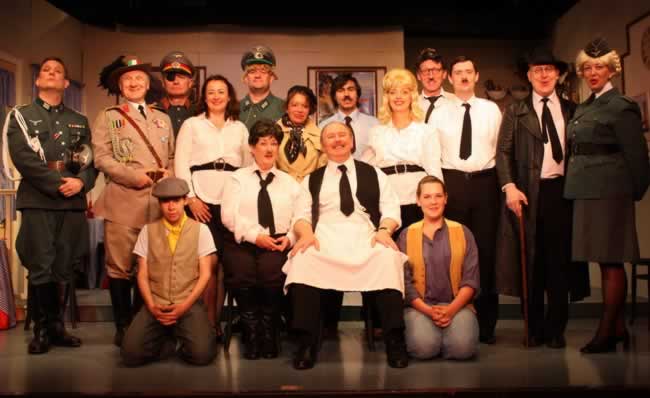 (click on an image below to view a larger photo - arrow keys navigate through the set)